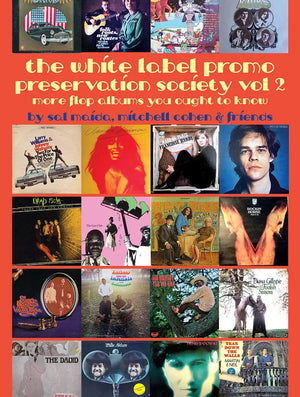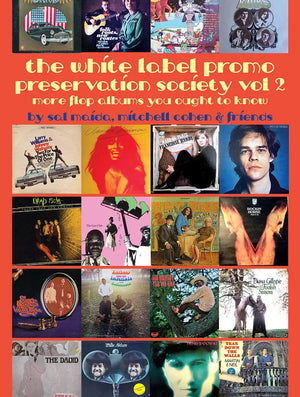 On Sale
WHITE LABEL PROMO PRESERVATION SOCIETY Vol 2 Book
The White Label Promo Preservation Society returns with another collection of essays celebrating albums that fell short of cracking Billboard's top 100, but belong in the libraries of discerning music-obsessives. Among the artists who turn up in these pages are members of the pop, rock and soul pantheon, as well as many who remain obscure or underappreciated. Sal Maida and Mitchell Cohen and their dozens of contributors take a trip from the Kinks and the Beach Boys to the Violent Femmes and Teardrop Explodes. Get ready to spend your money at used vinyl stores, garage sales and flea markets.
When the initial volume came out in 2021, we did a lot of podcasts and radio interviews, and quickly discovered that there were people with suggestions to make and bones to pick. Why is there an essay on this particular Small Faces album and not, say Ogden's Nut Gone Flake or First Step? Where, for heaven's sake, are the New York Dolls and the MC5? What kind of list is this, anyway, and how could you leave out The Beacon Street Union or The Gants? All fair questions, and the only real answer is, this society is composed of more than fifty very opinionated and decisive writers and musicians, people who will argue passionately about whether Mott the Hoople were better pre-Bowie or post-Bowie, whether Rick Nelson or Mike Nesmith had a more profound influence on L.A. country-rock, or which Tim (Hardin or Buckley) had more frittered-away potential. They have strong ideas about what neglected albums are worthy of your attention.
We went back to a lot of these contributors, and recruited some newcomers, and the result is this book. As in volume one, the guidelines were straightforward: choose an album that you love that didn't make Billboard's Top 100. Avoid greatest-hits-type compilations, and if an album is an acknowledged, much-discussed cult classic, like anything by the Velvet Underground or Nick Drake, try to pick something else. We would much rather introduce readers to The David or Sid Selvidge. Surely enough people are aware of Love's Forever Changes and Gram Parsons' Grievous Angel at this point.